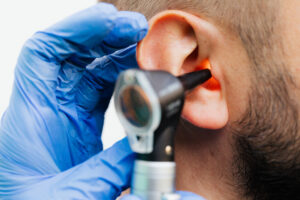 Numerous factors may contribute to hearing loss, including ear disorders, aging, prolonged noise exposure and ear injury. When patients experience hearing difficulties, a common course of action is to purchase over-the-counter hearing aids from a store like Costco or Sam's Club. But more often than not, store-bought hearing aids do little more than "turn up the volume" – and many patients find that these generic devices do not fit & function well enough to provide a true long-term solution. Another reason these devices commonly end up being classified as a hearing aid failure? They aren't designed to treat specific causes of hearing loss and thus do not account for differing patient needs.
At Ear Nose Throat & Facial Plastic Surgery Specialists, we recognize that an individualized approach is essential to effectively address hearing loss. If you've been disappointed by hearing aids purchased over the counter, and you are now seeking treatment that is custom fitted to your ear and hearing needs, our experienced audiologists are here to help. To learn more about our cutting-edge solutions for hearing issues, call us at 215-659-8805 or read on.
Improve Your Hearing with Help from the Top Hearing Aid Specialist Near Cheltenham
If you have experienced hearing aid failure, you may rightfully be feeling frustrated and hesitant to try another device. But hear us out: Working with a knowledgable Cheltenham hearing aid specialist such as Dr. Joshua Goldberg will make a world of difference in how your hearing aids work for you.
Drawing on decades of experience performing testing and providing solutions for patients with hearing troubles, the certified audiologists & ear experts at Dr. Goldberg's office are proud to excel in all of the following treatment areas:
Autoimmune Inner Ear Disease
Hearing Loss & Hearing Aids
Hearing Loss in Infants & Children
TruHearing Fitting
Earaches
Hyperacusis
TMJ
Dizziness
Facial Paralysis
And More
Whether you are suffering from hearing difficulties or another ENT issue, you can rely on our team for careful evaluation followed by advanced treatment that's tailored to your personal condition & needs.
Schedule Your Consultation with Our Hearing Experts
Are you ready to move beyond your hearing aid failure and discover a real solution? Trust Dr. Goldberg & his team to match you with an effective, long-lasting hearing intervention that conforms to your ears and addresses the underlying cause of your symptoms. To arrange your appointment, contact our Willow Grove office today at 215-659-8805. We look forward to helping you achieve crisper, clearer hearing!