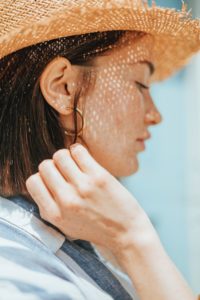 Do you find yourself hiding your ears under hats or hair? Are you embarrassed about the shape or positioning of your ears? If yes, you may want to consider cosmetic ear surgery.
It's not at all uncommon for individuals to feel self-conscious about their ears. Some individuals suffer from birth defects, while others simply feel their ears protrude too far from their head.
Whatever your situation, otoplasty may be able to help restore your self-confidence and allow you to stop worrying about your appearance or how you'll look from a certain angle in photographs.
What to expect with cosmetic ear surgery
Cosmetic ear surgery is a simple, straightforward procedure, with the overall goal being to help you feel confident with the shape and appearance of your ears.
Before your surgery
One of our specialists will meet with you to discuss the size, shape, and angle of your ears. They'll ask which areas you would like to improve or change and discuss possible modifications. You'll also be able to see before and after photos of others for comparisons.
On the day of your surgery
When you arrive for your procedure, you will be given anesthesia in order to numb the area and increase your comfort during the procedure. Depending on your medical history and the procedure, you may be able to request either local or general anesthesia.
Once you are fully numbed, your surgeon will carefully make the desired changes to the shape of your ear(s). The process may involve some minor cartilage removal in order to accomplish your goals.
While recovering from surgery
Immediately following cosmetic ear surgery, we will protect the incision sites with medical bandages. You may feel some minor discomfort, bruising and swelling. Know that this is normal. We will walk you through what to expect post-surgery and will advise you of any aftercare necessary to help you heal.
Depending on your situation, your doctor may wait a few days to a week to remove the bandages. Note that once the bandages are removed you may still notice some swelling and it may take a little time before the full aesthetic beauty of your new ears truly shines.
Patients may need to wear a protective headband at night for several weeks following the procedure, or until you're completely healed. You may also be asked to avoid earrings, glasses, facial tanning, increased sun exposure, or pool time during your recovery. Once you are fully recovered, you can resume all regular activities.
After surgery
Once post-surgery care and healing have completed, you'll be able to enjoy your new look worry-free. Many patients report having a new outlook on life, improved confidence and an enhanced sense of self-worth that pours over into many areas of their life, from work to romantic endeavors.
In the unlikely event that you are unhappy with your appearance, you can contact your doctor for the best next steps.
Considering cosmetic ear surgery? Contact our team of specialists today.
At ENTFPSS, our team has years of experience in cosmetic ear surgery. We have countless positive reviews from satisfied patients who were concerned about their appearance just like you. If your ears are a concern, and you feel like they are holding you back in life or making you self-conscious about the way you look, don't hesitate to reach out.
Our caring team of dedicated medical professionals is ready to learn more about how we can help.