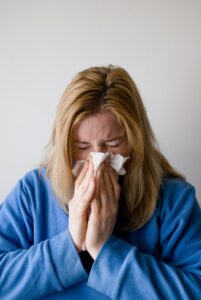 Are you fed up with sinus issues? Whether you're dealing with congestion that won't seem to end, ongoing post-nasal drip or painful pressure in your eye/nose region, the professionals at Ear Nose Throat & Facial Plastic Surgery Specialists are here to help you find relief. As the sinus specialist Philadelphia area patients have trusted for decades, Dr. Joshua Goldberg works alongside the rest of our highly trained team to treat sinus issues of all sorts.
When you choose our nose and sinus allergy experts to help you address your sinus problems, you can expect top-quality care and personalized attention every step of the way. Our experienced staff knows that solving sinus issues requires a thoughtful, individualized approach. Accordingly, we are careful to take each patient's unique symptoms & circumstances into account when creating a treatment plan. To learn more about our practice and services, call our office at 215-659-8805.
Am I Experiencing Chronic Sinusitis? How to Tell
While it's perfectly normal to experience occasional congestion from a cold or infection, sinus symptoms which stick around may indicate an underlying issue in need of treatment. When they linger for more than 12 weeks, sinus issues are considered chronic.
Symptoms commonly associated with chronic sinusitis include:
Loss of sense of taste and/or smell
Yellow or green mucus buildup in the nasal passages
Postnasal drainage (mucus dripping down the back of your throat)
Pain, tenderness or pressure in/around the sinus region (eyes, nose, cheeks and forehead)
Jaw/tooth soreness
Head & ear pain
If you are experiencing multiple symptoms from this list, you may very well have a chronic sinus issue. There are a number of causes which may be contributing to your persistent sinus symptoms, including a fungal infection, a deviated septum or nasal allergies, among other possibilities.
Come to Dr. Goldberg for Effective, Individualized Treatment
No matter what is behind your chronic sinus symptoms, Dr. Josh Goldberg is highly qualified to help you resolve them. Known as the sinus specialist Philadelphia area residents can rely on to provide expert, patient-centered care, Dr. Goldberg & our team draw on more than 50 years of experience treating nasal and sinus allergy issues. We are here to help you find a lasting solution so that you can breathe easy again.
We also have extensive experience treating snoring/sleep apnea, breathing problems, nasal fractures, allergies and more. For any ENT need, call Ear Nose Throat & Facial Plastic Surgery Specialists at 215-659-8805 to schedule an appointment with one of our friendly & knowledgable otolaryngologists.